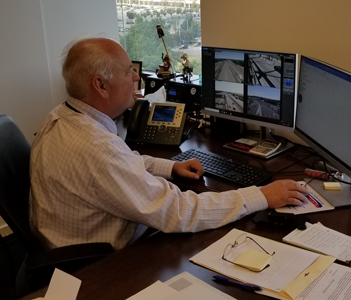 Frank Jordan – Frank joined the Turnpike family in 1985 starting as a Maintenance Worker. He committed to the job, worked hard, and could always be relied upon to take extra assignments in emergent situations. Frank soon demonstrated his desire for additional responsibilities and he took on several Acting Supervisor roles before he was promoted to a permanent Assistant Foreman position. After a successful stint as an Assistant Foreman, Frank was promoted to Roadway Foreman in 2004, and then to a General Foreman two years later. Frank excelled in the Foreman's position; he was well versed in the work, had the respect of his crew, and consistently stressed the importance of working safe. Frank's leadership skills and work ethic were apparent to management and they promoted him to Roadway Superintendent in 2016. In 2019 Frank was again promoted– this time to Deputy Director of Operations.
In his current role as the Deputy Director of Operations Frank works closely with the Director ensuring the efficient operation of the Turnpike and Garden State Parkway. Among his many responsibilities is the supervision of the 24/7 Traffic Management Center which monitors the Roadways and promptly responds to disabled vehicles, accidents, inclement weather and other emergent situations. Budget, long term planning and personnel issues are also part of Franks' everyday responsibilities.
Frank credits his steady advancement at the Authority to hard work, maintaining excellent relations with his coworkers, and a relentless desire to make a positive difference.